Meal delivery might be the first thing that might come to mind after hearing the news of a loved one's sickness or loss. Whether it's a food train, helping with the reception, or an individual effort to contribute, food is a deeply meaningful and integral part of the community's effort to aid those in distress.
"What we really want to do, intend to do, is to deliver a dish that is wholesome, satisfying and, most of all, enjoyable. Something that will be truly appreciated and do what we mean it to – provide comfort, show kindness and hopefully bring some joy." – Perre Coleman Magness, The Southern Sympathy Cookbook
Printable Meal Cards
Print and keep these meal cards with your recipes for easy use and delivery. Just place the card on top of your dish or in the box with your food. Whether you deliver the meal in person or through other means, it is an easy way for the recipient to know how to reheat it, what the ingredients are and who is responsible for it.
Download the Cards + Recipes
Download the Cards Only
Cheez-It Chicken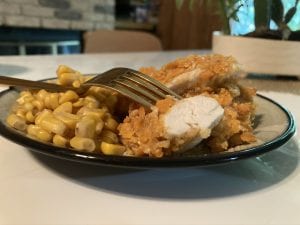 "My mom made this growing up, that was before gluten was a thing, before we watched every carb and ID'd the fat type of food. Of course, it's not deep fried or dripping with bacon fat, so all in all it's a pretty lean and healthier choice of comfort food – but still extremely satisfying. It's like snacking on your own dinner. Also a good one for the kids." – Aaron
1 package of chicken cutlets
1 small box of cheez its
1 T Garlic salt
½ Cup of panko or Italian bread crumbs
1 small bottle of ranch dressing
Crush up the cheez-its and mix it with the garlic salt and panko. Dry off the chicken pieces and dip them in the ranch, then cover with the dry mix. Place on a baking sheet or in a glass pan. Bake at 375 for 20-25 minutes.
Serve with the leftover ranch dressing or BBQ sauce. Good sides include corn or mashed potatoes.
Cheez-It Chicken Meal Cards
Shabbat Chicken
"Shabbat chicken is super simple and AMAZING. I give it to all new moms and bring it to church potlucks." – Jill
Whole chicken
3 chopped carrots
4 large chopped potatoes
2 large chopped onions
1 garlic bulb, peeled and minced
1-2 Tbsp Turmeric
1 Tbsp Paprika
6 Tbsp ketchup
2 Tbsp Worcestershire sauce
2 Tbsp soy sauce
1 cup water
Put chicken in a roasting pan. Place the chopped veggies around the chicken. Sprinkle the garlic, turmeric and paprika all over the chicken. Mix ketchup, Worcestershire, soy and water and pour over the dish. Cover and cook 375 for 2.5-3 hours or until chicken is done.
Shabbat Chicken Meal Cards
Taco soup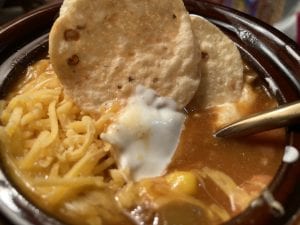 "You will hear your children fighting over the last bit of soup." – Kara
1 lb ground beef, browned
1 chopped onion
3 16-oz cans Mexican Chili
16-oz can chopped tomatoes
16-oz can corn, undrained
150-oz can tomato sauce
1.5 cups water
1 can chopped green chilies
1 package taco seasoning
1 package powdered ranch dressing mix
Combine and mix all ingredients. Bring to a boil; reduce heat and simmer for 20 minutes. Serve with tortilla chips, cheese, sour cream, etc.
Taco Soup Meal Cards
Layered, Baked Spaghetti
"This lasagna alternative is more exciting than plain old spaghetti, and can be substituted with gluten free noodles. Deliver it to friends with pre-bagged salad, dressings, and a box of Texas Toast. Very satisfying." – David
1 lb ground beef
1 chopped onion
1 chopped green pepper
1 chopped red pepper
5 garlic cloves, crushed
1 box spaghetti noodles (can substitute gluten-free)
1 jar spaghetti sauce
Large bag of Mozzarella cheese
1 cup Parmesan cheese
Italian seasoning
1 Tbsp honey
Cook the spaghetti. Saute the onion and peppers in light oil for 3 minutes; add the garlic and saute for 1 more minute. Add the ground beef and cook through; drain. Add the sauce, honey and a large pinch of Italian seasoning and cook on low until heated through. Mix the mozzarella with half of the Parmesan cheese. Layer the sauce, noodles and mozzarella two times, leaving ¼ of the sauce and mozzarella to layer on top. Finish it with ½ cup parmesan. Bake at 350 for 20 minutes.
Layered Spaghetti Meal Cards
See 23 more recipe ideas for food gifting and meal trains.
For more resources, like our Guide to Managing Sympathy Gifts, go to Resources for families.