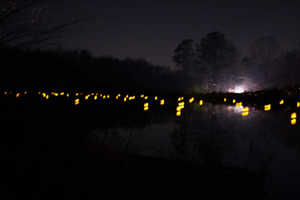 On the 3rd Saturday of December, Storke Funeral Home presents it's annual Holiday Remembrance Illumination. Held at Broaddus Pond in Bowling Green, the evening is dedicated to family members as well as all loved ones that passed away that year.
Storke Funeral Home, realizing that the holiday season can be a very difficult time after the death of a loved one, created this Luminary Service as a silent memorial to all families served by Storke Funeral Home.
Between the hours of 6:00 p.m. – 8:00 p.m. Broaddus Pond was aglow with over 100 floating luminaries representing each person cared for by Storke Funeral Home.
The first luminary service was held at Broaddus Pond in December of 2002.