Print Friendly Version
Check your settings when you are happy with your print preview press the print icon below.
Show Obituaries Show Guestbook Show Photos QR Code

Print
August 2, 1956 - October 24, 2019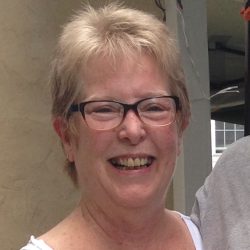 A celebration of life for both Cathy Piotrowski Marsh and Wayne Piotrowski will be held from 1:00 to 4:00 p.m. on Saturday, November 2, 2019, at The Community Center, 717 Marshall Avenue, Colonial Beach, VA 22443.

Add A Guestbook
Posted by:
Theresa Dove
Posted on:
November 1, 2019
Dear Debbie, I was so sorry to hear of your brother and sister's passings. My thoughts and prayers are with you and all of your family now and in the days ahead. May the Lord hold your close and may great memories bring you comfort.
Posted by:
Beth Searfoss
Posted on:
October 31, 2019
Cathy will be greatly missed by me, and also by my dog, Harper, who adored Cathy. I would frequently pass by her place on a walk with Harper, who always pulled the leash to the front door--she was anxious to see Cathy. And no matter what Cathy had planned, she would always invite us in for a chat. I will sorely miss those precious times together. We often laughed at life's inanities. I will miss her left-of-center sense of humor. She was an upbeat, positive person, and she was a delight to know. I thank God I will privileged to know her, and I am so glad I spent time with her in the hospital before she passed away. I will miss her so much!
Posted by:
Angela Apperson Theisen
Posted on:
October 31, 2019
Debi and Family - I am sorry for the loss of Cathy. My thoughts and prayers are with you all.
Posted by:
Jacqueline Taylor Farrell
Posted on:
October 30, 2019
As in life and now in passing Cathy made it a "whirlwind"! Cathy passing is such a shock. I am so glad that I got to see her for a short visit while she was able to be at home. Cathy was always there whenever a crisis hit my family. Whether it was a death, surgery or any health issue she came by for a visit and was never empty handed. A fabulous cook who taught me the REAL way to make potato soup. I have made it HER way every since. A good, caring and fun loving woman who will be missed by all who knew her. Her upbeat personality and genuine good nature was a gift to everyone who knew her. Cathy will be missed by all from the little town "Colonial Beach" which she loved so dearly!.
Posted by:
Wayne Harbaugh
Posted on:
October 30, 2019
Again Debbie I'm so sorry for you loss. I pray that you and your family have God's Peace in the days to come. Your sister was so so sweet to me and my family and Wayne always was looking out for you and Cathy back in the day. Have the Love of God forever more. Your friend Wayne
Posted by:
Joni Dale Libglid
Posted on:
October 29, 2019
Cathy and I met in high school. Not knowing anyone, it was Cathy that first introduced herself. As so many have acknowledged, this was typical Cathy. We reconnected many years later via Facebook. I always looked forward to her crazy jokes and stories. I am in total disbelief. We spoke recently of meeting each other half way between CB and WNY. I wish we had. I will miss you dearly my friend. Colonial Beach will never be the same without you. Rest Peacefully. Love you much.
Posted by:
Kevin Windle
Posted on:
October 29, 2019
Cathy,I am beyond heart broken to learn of your passing. Heaven will never be the same.It will be a more lively place for sure Many prayers for your family and many friends, <3
Posted by:
Susan Wyndham
Posted on:
October 29, 2019
Though I didn't personally know you, Catherine and Wayne, I know your sister,Norma Durrett, and how much she cared for you. Prayers for family and friends for peace and comfort in Jesus's Holy Name AMEN.
Posted by:
Tim Curtin
Posted on:
October 28, 2019
Cathy and Wayne - you and your sisters were a big part of my life growing up. I will always be grateful for the way you and your family looked after my mother and I when she relocated to Colonial Beach as a widow with me still in diapers. I owe so much of who I am to the love and generosity the Piotrowski family gave us over the years, that I will never be able to repay. May you both enjoy eternal rest with the Lord in his kingdom, forever free of illness and suffering. Say hi to Aunt Ruthie, Uncle Stanley, Ethel, Earl and everyone else we loved, who have by now welcomed you into His eternal kingdom. See 'ya soon!
Posted by:
Bonnie Gouvisis
Posted on:
October 28, 2019
I just can't believe I'm posting this on here. My heart is broken, after I found out the sad news of your passing. I'm still having a very hard time with this. Ok, I understand you more than most people know and "You wouldn't want anyone being sad. You want everyone to be happy". I have known you since first grade and had some good times. We became very close after you moved back from Kentucky. You are a sister, not just a friend. I will miss our talks, laughs; pj's and wine nights and our cries. Now for you Wayne, "Our Sunday get togethers with Cathy S. "Wasn't a men haters club. HaHa". That's what we got together for! Too funny. RIP my sister. Things won't be the same. Lots of people will miss you and your jokes. ❤️🍷